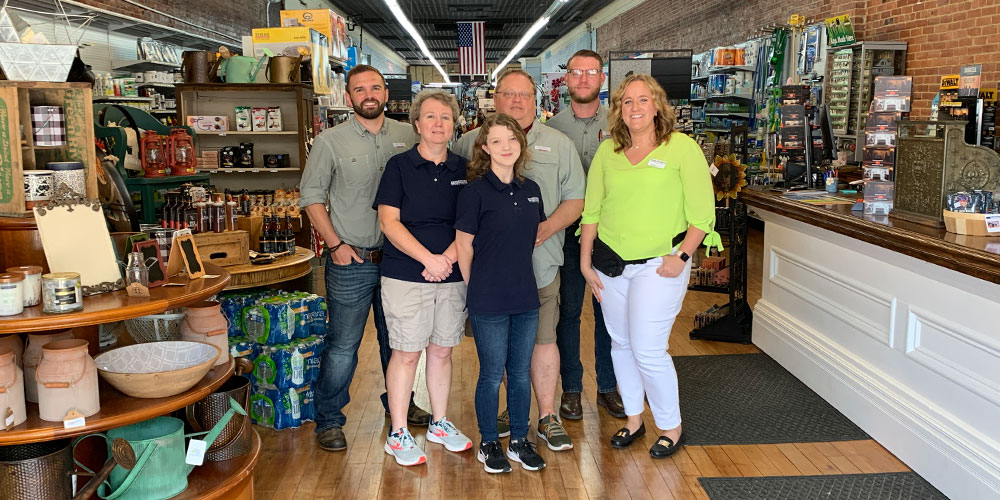 Retailer Helps Historic Missouri Store Shine
Since buying and renovating Carthage Hardware in 2020, store owner Eddie Grundy has made it his mission to ensure the business reflects its rich history in new and exciting ways. The store was originally built in 1860 but burned down in 1863 during the Civil War. It was rebuilt in 1878 and has served as a hardware store ever since.
Carthage Hardware has served the community in the same location since 1860
Owner Eddie Grundy bought the business and spent 2020 renovating it to showcase its history while also offering all the items customers need
Grundy sourced unique antiques, like the old-school cash register and check out counter, to add to the historic element of the store
Grundy's father, Ed Sr., managed the business until 1979 and much of Grundy spent most of his childhood at the store. Like his father before him, Grundy receives support from his family, which includes his wife Melanie and daughter Hannah, who are both active in the operation.
When Grundy purchased the business from the previous owners, he immediately began the process of remodeling the building. The recent renovation gave the store a major facelift. He reworked the layout and product assortments inside the store, updated the storefront signage and pulled up the carpet to reveal beautiful hardwood. To keep the charm of the building intact, he left the original brick walls and tin ceiling.
He spent a lot of time searching for antique pieces that reflect the store's history, like the old-school cash register that sits at the front of the store next to his newer POS system. Many of the wood accented built-in's that are used for the checkout counter and in-store displays are antiques from old businesses from the same time period sourced by Grundy. 
One unique addition to the store was having local craftsman create a one-of-a-kind stairwell railing made of old-school tools. He also had the wooden pulley system elevator at the back of the store worked on, resulting in a fun and safe way for his family and employees to quickly get to storage in the basement and on the second floor. 
The business offers a variety of tools and hardware, as well as other hardlines, and it has a high-tech color matching and mixing system in the paint department. Housewares products are showcased at the front of the store, where they also sell old fashioned soda and snacks to those walking through the store.
"Our goal for the store was to give it an old-school hardware store feel but provide up-to-date products and services to serve our customers' modern needs," Grundy says.