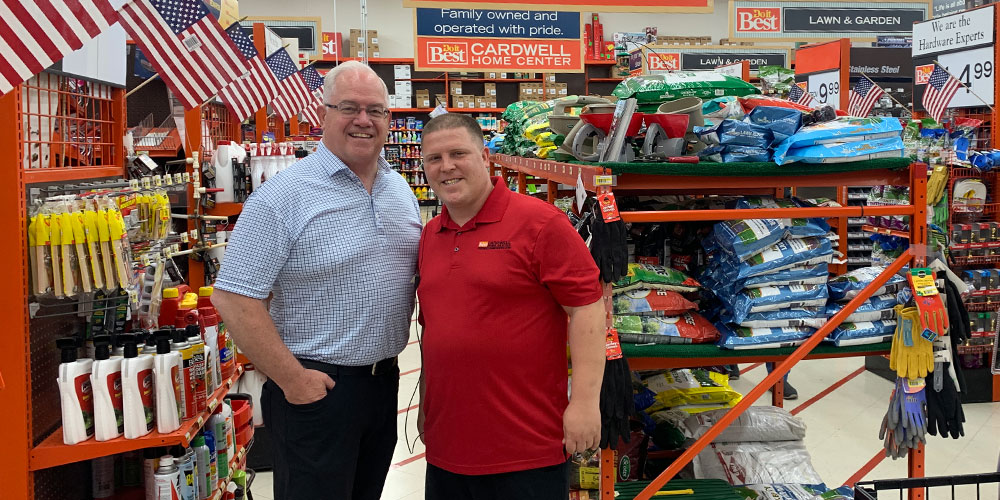 Retailer Shares Love of Hardware, Giving Back
A part of the Indianapolis community since 1945, Cardwell Do it Best Home Center specializes in product availability, competitive prices and top-notch customer service. The store features typical home improvement departments such as hardware, lawn and garden and plumbing, but also stocks housewares, cleaning supplies, holiday items and more.
Indianapolis store has served the local community since 1945
Owner Jeff Cardwell is a multi-passionate individual involved in hardware, politics and giving back in a variety of ways
Cardwell started a nonprofit called People Helping People Network to give back
Cardwell Do it Best Home Center is the largest discount roofing shingles supplier in the Midwest, stocking dimensional, architectural, economy, seconds, blemished, discontinued, asphalt and fiberglass shingles at wholesale prices. The well-organized and clean store takes advantage of endcaps, with thought-out displays that promote sales, seasonal products and other must-shop items. The focus on store layout and merchandising makes it easy for customers to shop. 
Along with running a successful family owned home improvement business, owner Jeff Cardwell works as a real estate agent and has been active in state and national politics since the 1980s. His conference room, which overlooks the salesfloor in the store, is full of memorabilia from the hardware industry and 40+ years in politics, two of his many passions.
Cardwell is also passionate about helping others. He started a nonprofit organization, People Helping People Network, which focuses on serving people across the United States, El Salvador and numerous other countries through housing, hunger relief, healthcare and education.
Customers at the store can round up their purchases, which goes towards operation funds for People Helping People. The company has also partnered with Haulstr, a local mulch and firewood delivery service, to offer mulch delivery.