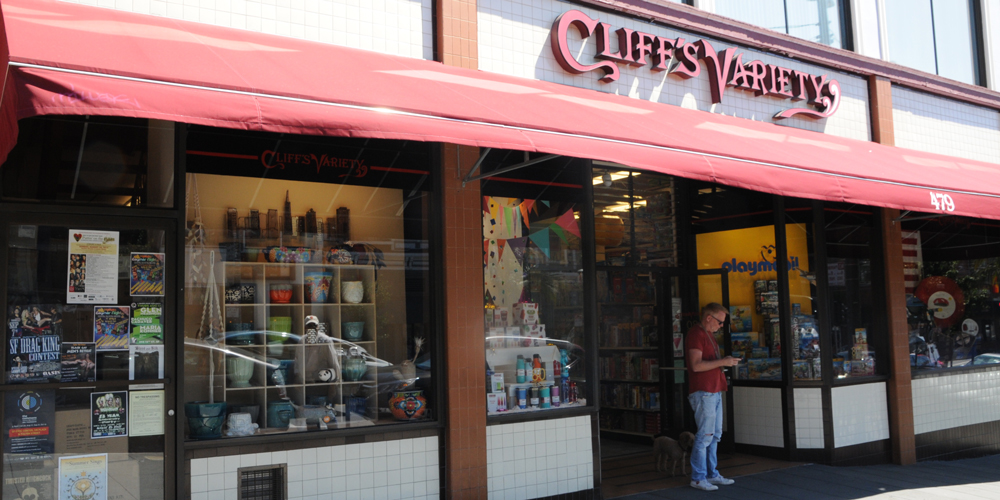 Cliff's Variety Draws Customers in With Creative Merchandising
Since its founding in 1936, Cliff's Variety has been constantly growing and evolving in response to the needs of its customers. When the store opened during the peak of the Great Depression, it sold magazines and used greeting cards, using ink eradicators to take the writing off the greeting cards to resell them. 
Cliff's Variety has a wide variety of products available
Window displays help draw in customers from the street
San Francisco business caters to tourists and loyal local customers
"We are in the geographical heart of San Francisco, and we hear from customers all the time that we are a destination whenever they have visitors in town. We appreciate all of our customers, but our bread-and-butter is our day-to-day customers, those who live and work right here in the neighborhood."
- Terry Asten Bennett
General Manager
The store now offers an eclectic mix of items covering departments from hardware and tools to cookware, garden supplies and gifts. The store's buyers strive to keep the selection fresh, on-trend and competitive, says general manager Terry Asten Bennett. Bennett is the great, great granddaughter of store founder Hilario DeBaca.
The decorated windows highlight different products and encourage those in the area to stop and shop the unique store. The store utilizes creative merchandising and displays to take advantage of every usable space, including displaying fully built tents on the ceiling and library ladders throughout the store to reach merchandise stored on high shelves. Customers can also take advantage of services like re-keying, lock repair, knife sharpening and glass, acrylic and wood cutting.
Asten Bennett says the neighborhood has evolved over the years, and Cliff's Variety has grown and changed as well in order to better serve their customers. As part of the historic Castro neighborhood in San Francisco, the store is also a destination for tourists who enjoy shopping the aisles of local products, souvenirs, toys and games, costumes, fabrics and more. 
"We are in the geographical heart of San Francisco, and we hear from customers all the time that we are a destination whenever they have visitors in town," Asten Bennett says. "We appreciate all of our customers, but our bread-and-butter is our day-to-day customers, those who live and work right here in the neighborhood."