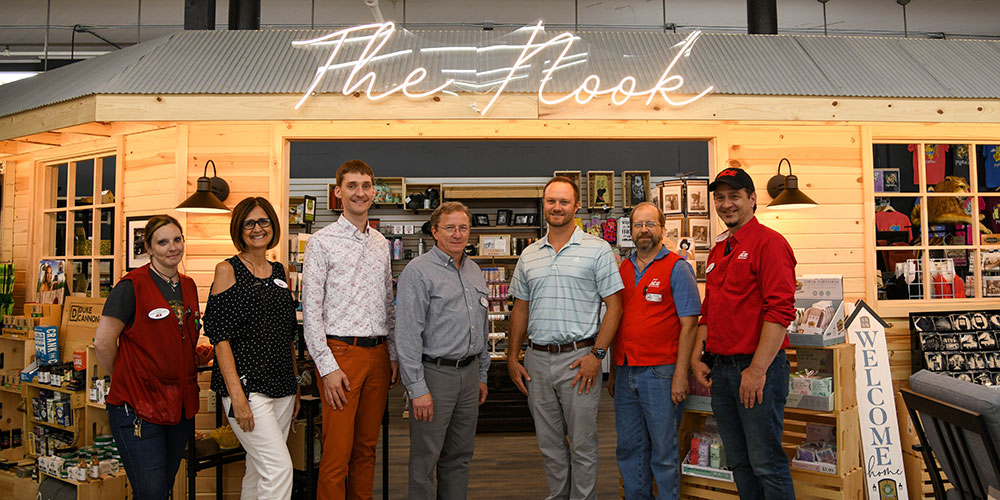 Flagship Store a Testing Ground for New Ideas, Displays
E&H Hardware Group traces its roots back to 1929 when Ed Buehler and his wife Helen started Buehler Food Markets. Through the years, Buehler Food Markets continued to grow into new markets throughout northeast Ohio. In 1959, a hardware department was added to the Orrville, Ohio, location. Now the company has 30 E&H Ace Hardware locations throughout Ohio.
E&H Hardware's flagship store opened in Wooster, Ohio, in the spring of 2022
The main floor features unique sections like The Nook, a boutique-like housewares section and a special Traeger Grill area 
The building has been in use for many years and showcases its history with a pneumatic tube system highlighted on the remodeled sales floor 
While the company has its roots in the Wooster, Ohio, area, it didn't open the flagship Wooster store until Spring 2022. The store is housed in a three-story building that was once a department store and then the Everything Rubbermaid Store. Customers can shop the typical hardware departments on the first three floors with corporate offices located on the fourth floor. There is a robust outdoor living section with grills, patio furniture and more on the first floor, along with a store-within-a-store called The Nook, which sells gifts, housewares and more. 
"The Nook is a great addition to the other boutiques and stores in downtown Wooster," says director of merchandising and procurement Scot Steele. "We worked with the other local businesses to carry items they weren't, so we weren't competing with one another and could offer more to customers." 
The second-floor houses paint, cleaning products, hand and power tools, lawn and garden, automotive and outdoor power equipment. It also is home to the largest Wooster Brush display in the country, specially designed by Wooster Brush, a nearby neighbor of E&H Hardware. The third floor is geared toward contractors with departments including plumbing and electrical. Contractors can also enjoy a cup of coffee and treats each day on this level. Tables overlooking downtown Wooster provide a spot for contractors to wait for orders and enjoy their coffee. 
To add to the history and charm of the building, while redesigning the store, the team made sure to keep and display the original pneumatic tube system throughout the building. This system was used to send bills and orders from floor to floor when the building served as a department store. The elevator doors on each floor also tell the story and history of the building.
As customers walk through quaint downtown Wooster, Ohio, E&H Ace Hardware is the perfect stop for practical needs and unique finds in a variety of categories. The building has given new life to an old, historic building, which locals love.