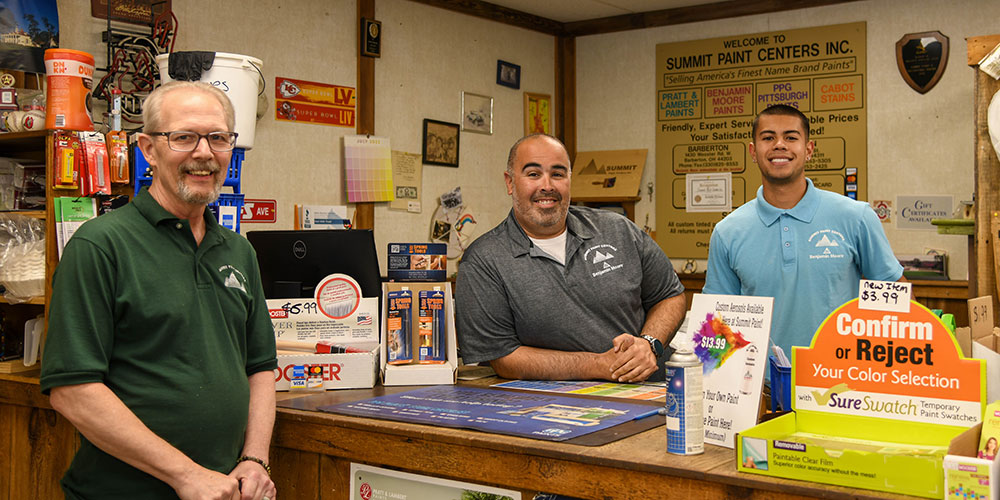 Ohio Retailer Offers Products Customers Need
With two locations in Akron, Ohio, and Barberton, Ohio, Summit Paint Centers has been serving the paint needs of contractors and customers in Northeast Ohio since 1986. President Nelson Roder explains the store services mostly contractors in the area, but also has some DIY customers. Paint brands available include PPG and Benjamin Moore. Additionally, Summit Paint Centers also sell Zar stains, with plans to soon carry General Finishes stains.
Summit Paint Centers has two locations: one in Akron, Ohio and the other in Barberton, Ohio 
The store highlights it's long history with old paint cans and paint memorabilia hung on the walls 
The business serves both contractors and DIYers
The Barberton store has an impressive selection of The Wooster Brush Company paintbrushes, rollers and sundries, which is appropriate as the Wooster Brush Co. headquarters is just 30 minutes away. Vice president Craig Goos, who will take over the reins of the business when Roder retires, says the store's Wooster Brush display is unique because he took the shelving and installed it perpendicular from the wall instead of at an angle like recommended. 
"When our sales rep was in the store, he said, 'You installed those wrong,' but I told him that the way we did it works better for our space and actually makes it easier to shop the products," Goos says. 
Throughout the store you'll find old paint cans and other paint memorabilia that tell the story of the company and the industry. There are also personal touches that make the store a warm and welcoming place for contractors and DIYers to shop, including free coffee and candy.