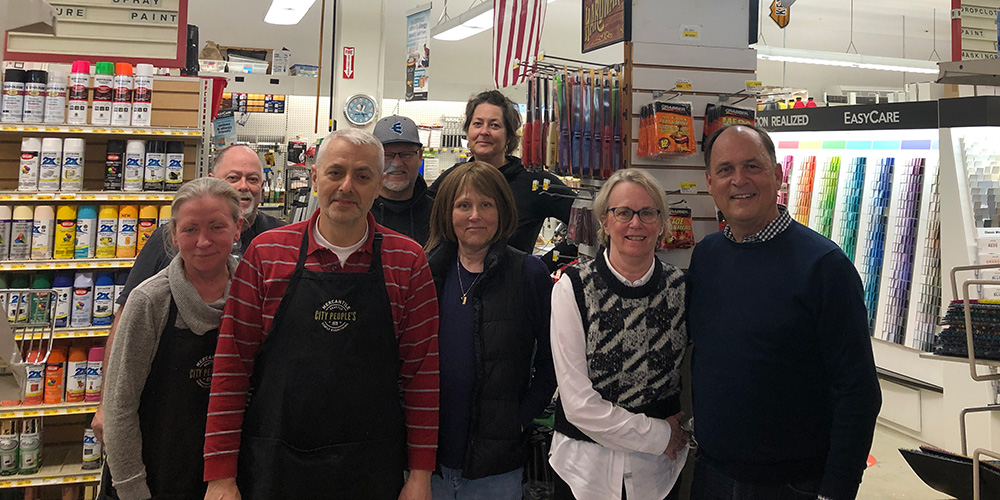 Retail Team Brings Past Experience to Long-Time Seattle Business
One of the claims to fame of City People's Mercantile in Seattle is that it was one of the country's first women-owned hardware stores. It was founded in 1979 by entrepreneur Judith Gille, then 26, along with two other women at a time when banks and hardware distributors were reluctant to do business with female business owners.
City People's Mercantile was one of the first women-owned hardware stores in America
Husband and wife team Kenzel and Kirsten Wilson bought the business in 2016
The Wilson's have experience in retail, coming from executive roles at Nordstrom and Costco
``We love to be on the floor and serve our customers and community.``
- Kirsten Wilson
Co-owner
Gille and her partners persevered and by the late 1990s, operated four locations and had created one of the most desirable places to shop in the city. 
However, the 2000s brought hard times to the business and Gille was forced to close all but two of the locations. In 2016, husband and wife team Kenzel and Kirsten Wilson, decided to purchase the Mercantile store and have been carrying on the tradition of a community minded business that has a little bit of everything to offer local shoppers. 
Both Kenzel and Kirsten are career retailers and came to the business with extensive knowledge in retail. Kenzel was an executive with Nordstrom and Kirsten was an executive with Costco operations and logistics. The store today reflects that diverse experience. After long careers, they looked to buy a business that brought them back to how they started.  
"I liked the fact that in some ways we were turning the clock back 30 years when buyers bought the product, stocked the floor and sold what they bought," Kenzel says. 
"We love to be on the floor and serve our customers and community," Kirsten says.  
While only about 30% of the products on the salesfloor fall under the hardware category, that area helps anchor the business with local shoppers, providing them with needed home improvement items they would otherwise have to drive several miles to purchase. Lawn and garden is one of the most popular categories at the store and the couple have a separate garden center with a variety of live plants and accessories. Patio furniture is a major draw, too. While the 12,000-square-foot store doesn't allow much space for displaying assembled furniture, a separate warehouse and creative storage allows the Wilsons to stock enough inventory to make it one of their major categories. 
Outside of hardware, City's People's Mercantile offers departments in housewares, toys, health and beauty, pet products and gifts. The displays and product variety reflect Kenzel and Kirsten's 30 years of experience in department stores. Among the staff of 35 employees, six are buyers, each specializing in different areas and each responsible for keeping up with trends and new products. The business also gives back to the community it serves, carrying on a practice set by Gille more than 40 years ago, with donations to local charities such as the Seattle Children's Hospital and the Ronald McDonald House.