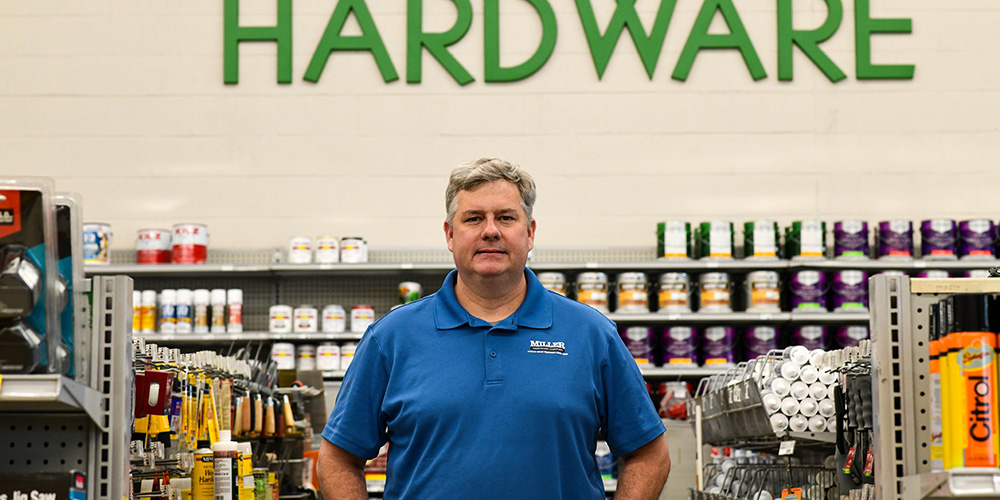 The Southern Heart of Hardware
Found in the valleys of southern Georgia is Miller Hardware Co., a town staple in the Valdosta community. Having served the community for over a century, both DIYers and contractors alike have come to rely on the products and services offered at Miller Hardware. From tool repairs and a large selection of products at their main downtown location to the unique and fresh garden center on the northern part of town, the company offers almost everything one could need in the home improvement industry.
"Miller Hardware has always been there, first and foremost, for the community," says Marty Ellison, director of retail operations at Miller Hardware. "When you serve and take care of the community around you, they give it back to you in kind."
Miller Hardware Co. has been in business since 1908
The store has expanded to take up the entire shopping strip it has been in since the 1920s
Old photos hang on display inside the store to show off its rich history
"Miller Hardware has always been there, first and foremost, for the community. When you serve and take care of the community around you, they give it back to you in kind."
- Marty Ellison
Director of Retail Operations
Explosive Expansion
Still occupying its original building from when it moved to Valdosta, Georgia, in the 1920s, Miller Hardware has evolved from being a seed and hardware store to an overall home improvement business. As neighboring businesses closed or moved locations over the years, Miller Hardware was eager to take over their space and expand the store's showfloor. The company now takes up the entire shopping strip . 
"We carry almost every type of tool, pipe, connector that any contractor or DIYer could look for," says Jonathan Miller, fourth generation owner of Miller Hardware. "And as we expanded, we knocked out holes in the walls to expand and connect together as best we could."
The store sits in front of its main warehouse and is separated by an old brick alley. The warehouse recently received an upgrade to offer a salesfloor of its own and a warranty and repair services desk for power tools and other products the company sells. 
"Having a service desk with certified technicians has been a great addition to the business in recent years," Miller says. "We are the only local place where you can get your tools serviced under warranty and not wait an eternity to hear back from the manufacturer if your tool needs repairs, how long it will take, or if you will need to purchase a new product entirely. We are able to handle that here in the store, which is great for everyone who needs service."
Storied Past and Bright Future
Miller Hardware has become an essential store and local establishment in the city of Valdosta. Offering top notch customer service, a wide variety of products and giving back to the community has set Miller Hardware apart from other stores in the area. 
"The city of Valdosta used to host a bike race," says Ellison. "Team members from Miller Hardware would load up large trucks of bikes and take them to the town over, about a 45 minute drive from Valdosta. Then children ages 10 to 18 would bike from that town to Valdosta. A race like this wouldn't happen nowadays, but the racers would ride in front of the store."
Pictures can be found around Miller Hardware about its storied past, featuring pictures of the bike race, the founders of the business and original exterior of the building. 
As the city of Valdosta continues to grow, Miller Hardware will continue to offer its services and products to whomever needs it. 
"We love the community we are in," Miller says. "And we will continue to give back for all the support they have given us for over a century."