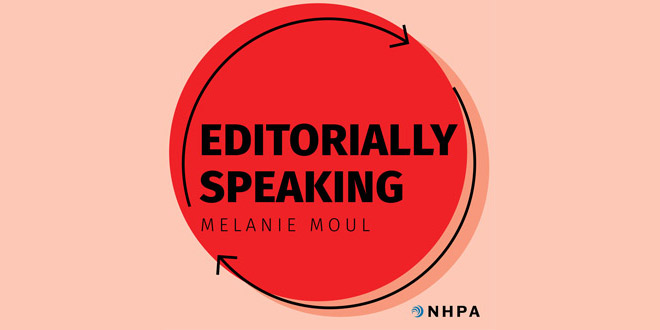 Editorially Speaking
Melanie Moul, managing editor of Hardware Retailing and Paint & Decorating Retailer, discusses key topics facing independent retailers today. These episodes correspond with the association's two publications, Hardware Retailing and Paint & Decorating Retailer.
Listen to the latest episodes below or subscribe on one of these platforms to be notified of new releases:

Apple Podcasts     

Google Podcasts     

Spotify
Also on: Stitcher | Pocket Casts | RSS
Episode 14 – Bruce Tulgan
On this episode, Melanie talks to researcher and author Bruce Tulgan about the soft skills gap in the workplace. Learn how you can cultivate soft skills in your business and why training soft skills is key to growth. Learn more about Bruce and access all of his publications—including Bridging the Soft Skills Gap: How to Teach the Missing Basics to Today's Young Talent—at rainmakerthinking.com.
Episode 13 – Dave Rosenberg
On this episode, Melanie speaks with Dave Rosenberg, a former naval officer and current tactical leadership expert. Together they talk about the 2021 Young Retailer of the Year honorees, Dave's thoughts on leadership and his book and program by the same name, Locked on Leadership. Learn more about Dave and his thoughts on leadership at lockedonleadership.com.
Episode 12 – Zarmeena Waseem
On this episode, Melanie talks to Zarmeena Waseem, the director of cybersecurity education for the National Cyber Security Alliance (NCSA). They talk about the types of cybersecurity incidents that small businesses are vulnerable to and how retailers can keep their data safe.
Learn more about the programs the NCSA offers at staysafeonline.org.
Episode 11 – Jackie Sacks
On this episode, we're talking to Jackie Sacks, co-owner of Roundtop Mercantile, a hardware and grocery operation in central Texas. She talks about how she's been handling customer requests over the last year and insights into her decision to join the NHPA board of directors last fall.
Episode 10 – Lara McCulloch
On this episode, Melanie talks to branding consultant Lara McCulloch about how to establish a brand for your business and strategies you can use to communicate it consistently across online and in-store experiences.
Episode 9 – Mike Kokesh
On this episode, Melanie talks to Mike Kokesh, co-owner of Gopher Ace Hardware in Minnesota. He talks about how important project management and planning was for him and his team as they opened a second store location in 2020.
Episode 8 – Chuck Dailey
On this episode, Melanie talks to master beekeeper Chuck Dailey for all of the details on caring for bees, from products to get started to what's in your yard.
Episode 7 – Aubrey Smith
On this episode, NHPA managing editor Melanie Moul talks to NHPA senior designer Aubrey Smith about updates to the magazines and the association's new approach to content development and delivery in 2021.
Episode 6 – Dan Tratensek
On this reflective episode, we talk to NHPA executive vice president Dan Tratensek about how the pandemic impacted the industry, highlights from this year's Market Measure report and what he's looking forward to most in 2021.
Episode 5 – Sara Carpenter
On this episode, we're talking to president of Steve's Ace Hardware, Sara Carpenter about her family's business and how she came to own her parents' business they started more than 30 years ago.
Episode 4 – Jesse Carleton
In this episode, Melanie chats with NHPA's Training Manager and Editor Jesse Carleton. They discuss NHPA's newest training resources designed to introduce new employees to their role in a retail environment. Also, get a preview of what's in the October issue of Hardware Retailing.
Episode 3 – Lauren Wilson
In this episode of Editorially Speaking, we talked to Do it Best merchandise manager Lauren Wilson about best practices and strategies for creating and growing a strong food and snacks category. Also, get a preview of what's in the September issue of Hardware Retailing.
Episode 2 – Top Guns Part 2: Kevin Hancock & Kirby Scales
Meet the 2020 Top Guns honorees: Kevin Hancock of Hancock Lumber and Kirby Scales of Russell Do it Center talk about strategies to compete in the future and the impact of COVID-19 on the industry.
Episode 1 – Top Guns Part 1: Will Aubuchon & Patrick Goebel
Meet the 2020 Top Guns honorees: Will Aubuchon of W.E. Aubuchon Co. and Patrick Goebel of Star Lumber talk about their operations and offer industry insights.