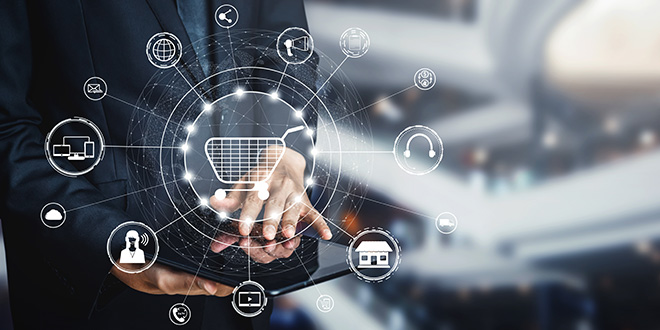 Innovation Doesn't Require Vast Internal Teams
While they might understand the important role innovation plays in an operation's success, many retailers believe technology has to be expensive or complicated. However, innovation can be simple, and Carl Hildebrandt, vice president of product management at Epicor Software, shares how retailers can implement end-to-end technology solutions without needing an IT department or a dedicated IT team.
``A great way to drive employee efficiency is investing in a retail solution that delivers a range of functionality and allows data to sync reliably across all the buying channels.``
- Carl Hildebrandt
Vice President of Product Management at Epicor Software
North American Hardware and Paint Association (NHPA): What are some end-to-end retail tech solutions retailers can add to their operations? How does each improve productivity and efficiency?
Carl Hildebrandt (CH): A great way to drive employee efficiency is investing in a retail solution that delivers a range of functionality and allows data to sync reliably across all the buying channels. Additionally, empowering employees with mobile solutions provides service to meet consumers where they are. Augmenting traditional retail roles with technology can improve employee engagement, reduce costs and enhance the customer experience. Essential components of omnichannel solutions to drive productivity are:
Mobile point-of-sales (mPOS) systems are essential for any retail operation needing to drive employee productivity and efficiency. mPOS manages inventory, processes transactions and generates reports from anywhere in the shopping environment—at the curb, in the office or on the salesfloor, allowing your employees to be where they need to be.
Inventory management systems can increase employee efficiency by automating manual processes, providing insights into inventory trends and enabling data-driven decisions. Automating backroom functions such as data entry, replenishment order processing and price management frees up employee time to focus on other tasks such as customer service and sales. You'll also find that inventory management solutions can reduce errors in stocking, provide real-time data for immediate answers and streamline communications between employees, suppliers and customers. Maintaining dynamic stocking levels to have the right products at the right time drives consumer confidence and loyalty.
E-commerce platforms allow retailers to sell products online, which can help them reach a wider audience and increase sales. Modern e-commerce platforms also offer features such as mobile optimization and integration with social media platforms.
Artificial intelligence (AI) and machine learning (ML) tools can help retailers optimize pricing and inventory levels and automate repetitive tasks, all with minimal employee activity. For example, AI-powered chatbots can help retailers provide customer support 24/7.
Visual product configurations are e-commerce solutions that allow retailers to create immersive shopping experiences for customers in-store and online to drive quicker buying decisions and accurate pricing. For example, customers can build their products online and see how they look with platforms like Epicor CPQ.
Digital signage allows retailers to display dynamic content in-store, such as promotions, pricing and product information. It can also be used to create interactive experiences, such as product demonstrations, once again enabling your team to be more effective in their selling and capitalizing on their shopping journey in-store.
By adopting these end-to-end retail tech solutions, retailers can improve their operational efficiency, increase sales and deliver a better customer experience.
NHPA: Why is being open to technology and innovation—even at a very basic level—important for retailers to find success?
CH: Retailers need to be open-minded and embrace innovation to succeed. Technology drives improved customer service, streamlined operations and potential cost savings.
These innovations also:
Meet customer expectations. Today's consumers expect a seamless and personalized shopping experience enabled by technology. By embracing technology, retailers can meet these expectations and differentiate themselves from competitors.
Improve efficiency. Technology can help retailers automate manual processes, reduce errors and streamline operations; this can help retailers reduce costs and increase efficiency, improving profitability and competitiveness.
Enhance customer experience. Technology can enable retailers to create unique and engaging shopping experiences, such as personalized recommendations, augmented reality product demonstrations and mobile checkout. These experiences can increase customer engagement and satisfaction, increasing loyalty and sales.
Stay ahead. Retail is a highly competitive industry, and technology can be a crucial differentiator. Retailers that are early adopters of technology can gain a competitive advantage by offering new and innovative experiences that their competitors do not yet provide.
Adapt to changing market trends. The retail industry constantly evolves, and technology can help retailers adapt to changing market trends. For example, retailers that embraced e-commerce were better positioned to weather the shift to online shopping and curbside pickup during the COVID-19 pandemic.
HR: How can a tech-averse retailer become more comfortable with technology?
CH: If a tech-averse retailer wants to become more comfortable with technology, they can take several steps to kickstart their digital transformation journey.
Start small. Begin by adopting technology that is easy to use and has a low learning curve. For example, a retailer could start by implementing a basic point-of-sale (POS) system or using social media to connect with customers.
Engage with different types of education. Attend workshops, webinars or conferences focusing on technology in retail, which can help retailers learn about the latest trends and best practices in technology, as well as the benefits and challenges of adopting technology.
Seek expert help. Consult with a technology expert or hire an IT professional to help with technology adoption. They can guide you on selecting the right technology, implementing it and training employees on how to use it. Additionally, a solution provider can be a great asset to getting started from their wide range of industry knowledge and seeing how companies like yours use technology.
Involve employees. Involve employees in the technology adoption process by soliciting their input, offering training and creating a culture of experimentation and continuous learning. This will help employees become more comfortable with technology and embrace new tools and systems. Additionally, employees might have technology experience from previous jobs or have a keen interest in IT involvement.
Leverage peer networks. Join industry groups, attend trade shows and participate in online forums to connect with other retailers who have successfully implemented technology. These peer networks can provide valuable insights and support for retailers who are new to technology.
Measure results. Measure the effects of technology adoption by tracking key performance indicators (KPIs) such as sales, customer satisfaction and employee productivity. Tracking analytics helps retailers understand the impact of technology on their business and make informed decisions about future investments.
By taking these steps, retailers can gradually adopt technology and reap the benefits of improved efficiency, customer engagement and competitiveness.