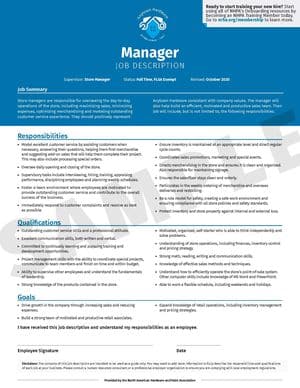 Manager
In addition to a manager's leadership responsibilities, the job description may include the personal qualities necessary for being a leader and motivating a team. The job description should also spell out whatever operational oversight they may have.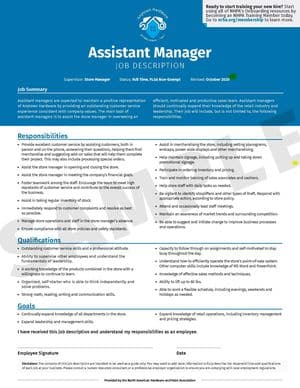 Assistant Manager
When listing an assistant manager's responsibilities, define the level of supervision they have over employees. When listing the goals for this position, you might list the educational opportunities you're willing to offer so they know what are the next steps in their career.
Sales Associate
As sales associates are often entry level positions, it's important to be clear in defining their responsibilities. Always take time to go over each point of the job description with new hires so they know exactly what you expect of them and can ask any questions.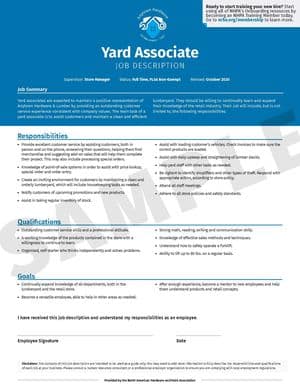 Yard Associate
The job description for a yard associate should include any equipment they are required to operate, such as a forklift. In the goals section, consider including opportunities to be trained on the products on the retail salesfloor so they can become a more versatile employee.
Cashier
Make sure cashiers understand the critical role they play in providing an excellent customer service experience. Running an efficient checkout line, keeping the front of the store orderly and greeting each customer are all important parts of their job.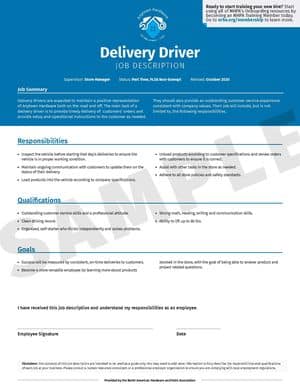 Delivery Driver
Similar to cashers, delivery drivers should understand the important role they play in representing your business when they're making a delivery. Also include in the job description the expectations you have of safety and maintaining the delivery vehicle.