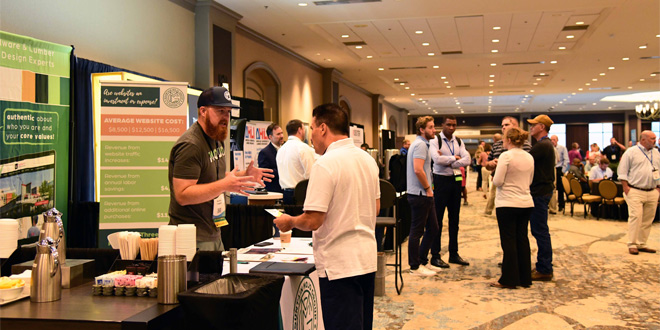 Retailers Take Action in the Retail Solutions Hall
Throughout the 2023 NHPA Independents Conference, the Retail Solutions Hall was home to 24 innovative service provider exhibitors who were ready to help retailers address common challenges such as data management, inventory control, internal communications, security and more.
"The conference had a lot of great vendors, and I appreciated the focus on technology because that is what we need to go further and be successful," says Ronnie Pollard, owner Tile Liquidators.
"It's been a really successful time, we've met a lot of new retailers and received several leads," says Rand Jenkins, CEO and director of strategy for Mountain Mojo Group. "We're glad we could be a part of the NHPA Independents Conference and look forward to further connecting with independent retailers."
The full list of exhibitors that supported the 2023 NHPA Independents Conference in the Retail Solutions Hall is below. Visit the conference website or to learn more about each conference exhibitor and the solutions they offer.
4R Systems

American Hardware & Lumber Insurance

Autologue Computer Systems

Badger Technologies

CashierPRO

Danavation Technologies Corp.

Datastory

Dexter

ECI Software Solutions

Elastic Path Software Inc.

Epicor

GMG EnviroSafe

Live Oak Bank

Mountain Mojo Group

National Cooperative Bank

NearSt

NHPA Membership and Education

Paladin Data Corp.

Pennsylvania Lumbermens Mutual Insurance Company

Pricer

Unilog Corp.

Verkada

Watcher Total Protection