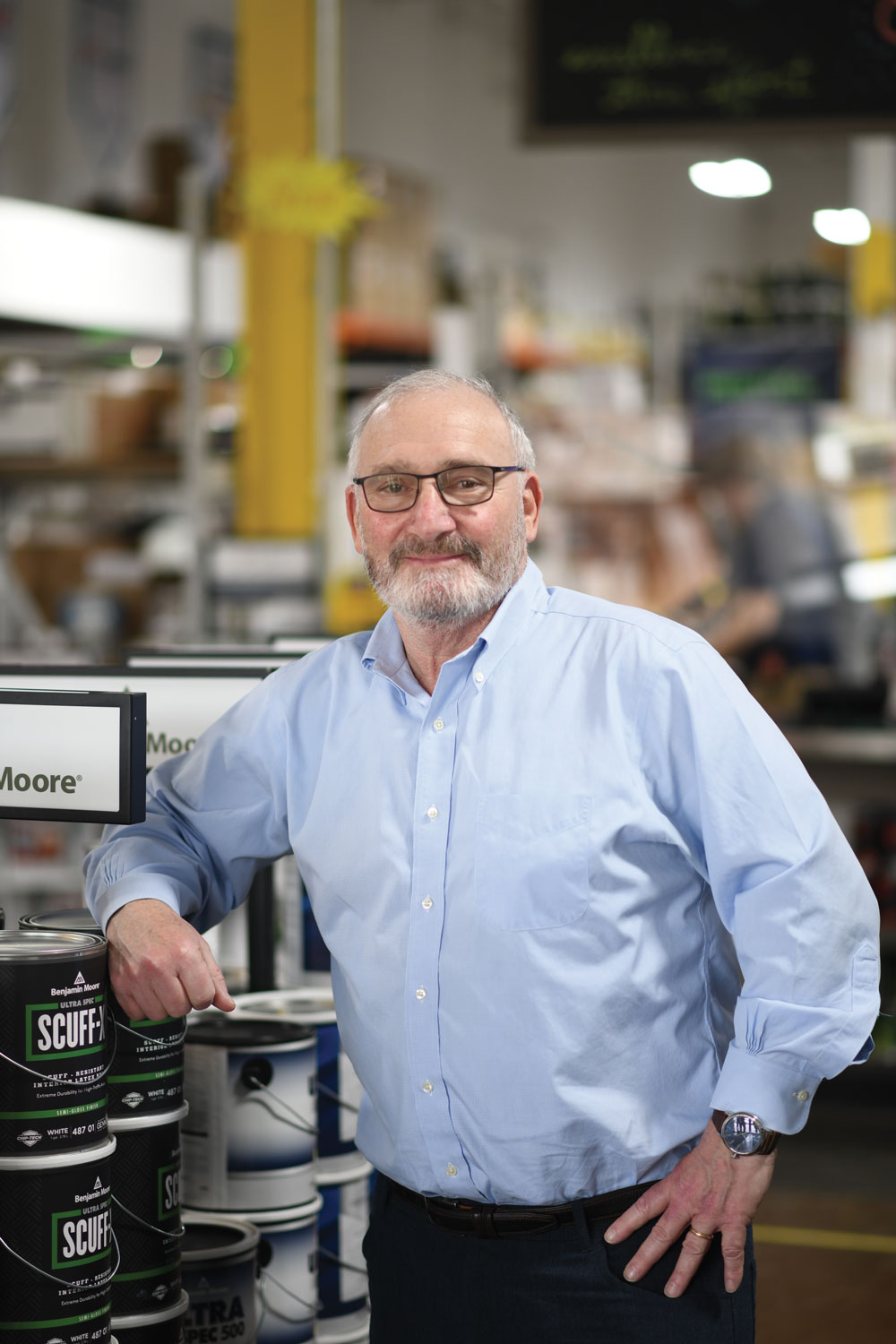 Founded in 1907
---
57 locations, Chicago area and Wisconsin
---
Growing into hardware
---
Elliot Greenberg
JC Licht | Chicago Area & Wisconsin
JC Licht was founded by the Licht family in Chicago in 1907, growing to dozens of locations over nearly the next century until 2000 when Benjamin Moore purchased the operation. A little over a decade later, the paint manufacturer decided to exit the retail business and sought a buyer for JC Licht, which at that time boasted 29 locations.
—
Elliot Greenberg had spent over 30 years in the independent paint business, and at the time, he served as vice president of sales, operations and marketing for Ring's End, a comprehensive home improvement business in Connecticut. Prior to that, he had spent 15 years in his family's paint business, running a busy store serving contractors in New Jersey.
"I remember delivering paint to contractors with my mom in her station wagon when I was four years old and getting 10 cent tips. It was in my blood," he says. "It was always something I cared for and loved, but it wasn't always a goal for me. I thought I would go to law school or become a sports agent."
The job at Ring's End—helping the company start up its paint operations— was an opportunity Elliot couldn't pass up. Elliot says his time there was a crucial part of his development as a leader and a businessman.
"I wanted to prove myself beyond the family. At Ring's End, I had to learn from scratch how to do what I did," he says. "I was treated really well, and I learned so much. The owners gave me a lot of leeway to grow the business and we grew dramatically in every aspect. It was probably the greatest 20 years I've had in the business."
Elliot spent time cultivating a relationship with Benjamin Moore during his time at Ring's End, which is how he learned of the opportunity to buy JC Licht in 2014.
After spending two decades learning how to run a comprehensive operation, he saw the potential in JC Licht, and officially became the owner in January 2015. Over the last seven years, Elliot has put the company on an aggressive growth path, and he has focused on establishing a leadership team that is dedicated to the company's core values.
"I look at this operation as an extension of Ring's End. I was very experienced as an executive only because of my time there," he says. "I learned a lot about core values there, and that helped inform so much of what we do here today at JC Licht."
TEAM ORIENTED
JC Licht staff are passionate about the work they do, and each one is committed to serving customers and upholding the company's core values.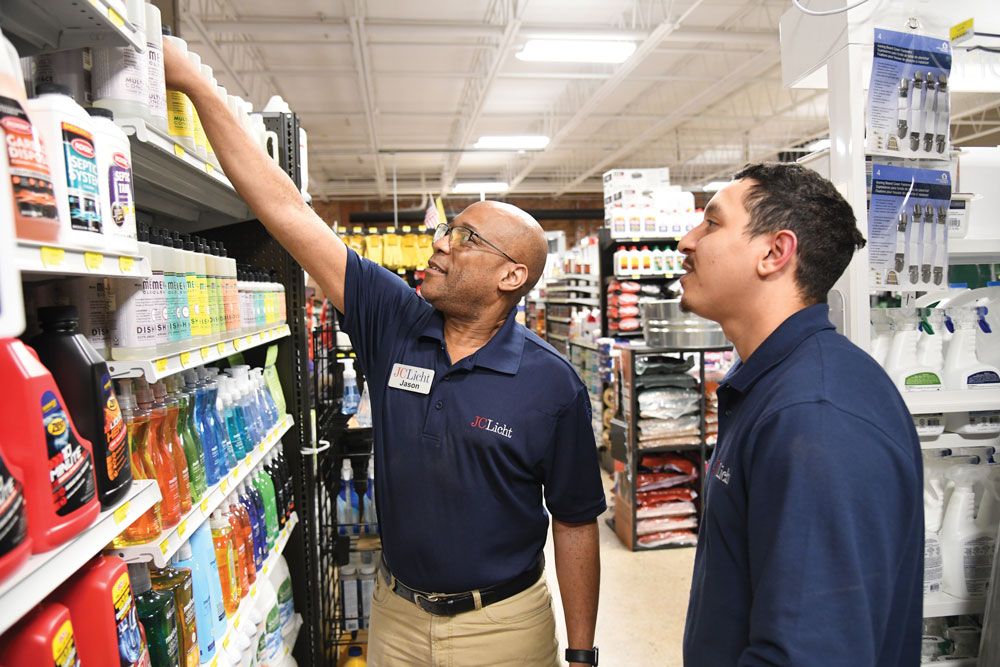 Engage customers with passion.
---
Respect one another.
---
Demonstrate openness and honesty.
---
Be energetic, be positive and win.
---
We are all equally important.
PEOPLE AT THE CORE
In every one of the company's 57 locations, the core values of JC Licht adorn the walls wherever employees gather. They guide every decision. As the company has grown, Elliot's leadership team has played a key role in communicating the core values, ensuring each team member knows they are critical to JC Licht's success.
Early on in his tenure, Elliot attended a CEO conference where he was introduced to the book "Traction" by Gino Wickman. The lessons he learned from the book, and the Entrepreneurial Operating System® (EOS) it introduces, have been an integral part of his strategy since.
"'Traction' helped us transition from a highly entrepreneurial company to a growth-oriented business," Elliot says. "It encompasses how we operate our company on a weekly, quarterly and long-range basis, informing our three-, five-, and ten-year plans."
"Traction" led the JC Licht leadership team to develop the company's core values based on the characteristics of high-performing employees.
"Kim [Smuda], our senior office administrator, was the first person we named. She had it all," Elliot says. "We continued naming other people who we thought would take us to the next level. Looking back on that process, I wouldn't change anything."
With the core values established, the leadership team got to work further developing the culture of the business. Elliot says the biggest challenge for the staff was learning how to say yes.
"The people I inherited were afraid to say yes, and we had to change that dynamic," Elliot says. "I met with all of our big customers, listening to them and learning their challenges. They quickly understood that I care about them, and I will come up with solutions."
Elliot says the company's flexibility as an independent business is a key part of how they can compete against national brands.
"I can make decisions on the spot, where national chains are limited," he says. "We taught our people that they also have the authority to make those quick decisions. So we came up with a slogan: Make it happen."
"We taught our people that they also have the authority to make quick decisions. So we came up with a slogan: Make it happen."
"I met with all of our big customers, listening to them and learning their challenges. They quickly understood that I care about them, and I will come up with solutions."
The "make it happen" philosophy is now a common sight throughout all JC Licht operations, seen on the back of company t-shirts and on shopping bags so every customer knows there is a solution available if they ask.
This strategy also paid off over the last two years as JC Licht staff adapted to changing customer demographics— and their vastly different needs—during the course of the pandemic.
GROWTH PLANS
In addition to investing in people over the last seven years, JC Licht has been investing in store development and growth in new areas. When Elliot took ownership, the business had 29 stores. Today, the company is 57 locations strong, including entering a new state and foraying into hardware.
"I don't have a goal of a certain number of stores by a certain time, but we evaluate our markets every three months," Elliot says. "I think we have the pillars that we need to go forever. Individual paint stores, both commercial and industrial; wood coatings; home fashions, including wallcoverings and window treatments; and more JC Licht Ace stores. These are the things we know and do well."
The company's next step is further expansion into Wisconsin and entering the Indiana market. The growth strategy is as much about growing the brand as it is about creating job opportunities.
"We have about 575 associates, who we call family members," Elliot says. "Especially during COVID, we've seen a lot of new people come from other jobs for better pay and more opportunities. They know we're a growing company, and they can see all the pathways they have."
JC Licht has a generous employee referral program that has led to strong recommendations. Employees receive $750 for each referral they make, and Elliot says that investment is worth it.
"It works. We're getting high-quality people from referrals," he says. "Because we've grown so much, we have 70 to 80 people who are somehow related to another employee."
Elliot says he is energized by the opportunities that are around every corner, and he's grateful for the opportunity to lead an organization like JC Licht.
"I wake up every morning, and I get excited," he says. "I thank God every day for how lucky I am to be in such a great industry."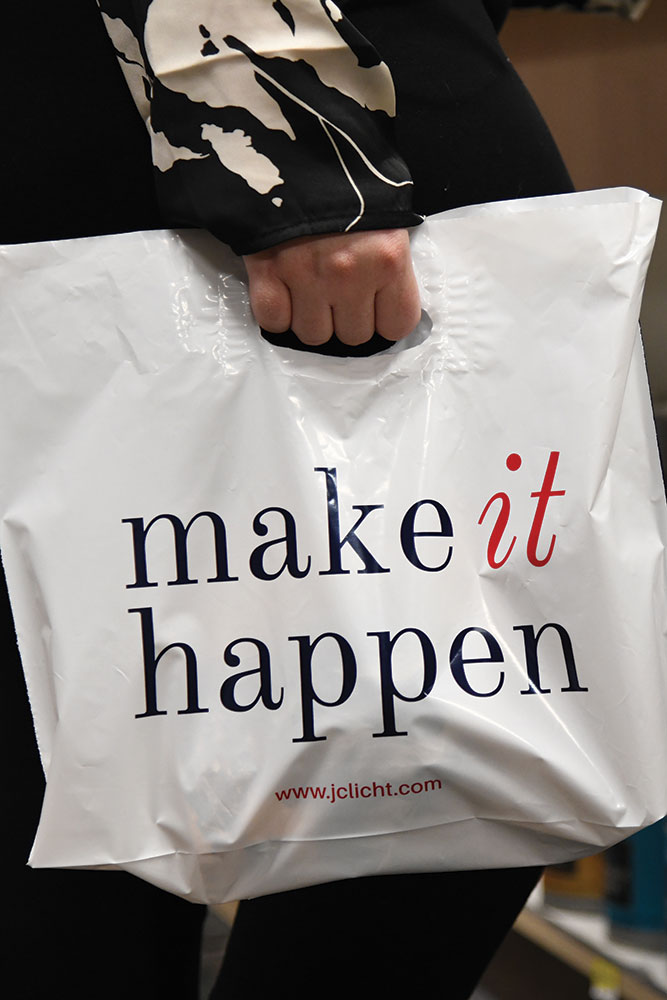 The slogan "Make it happen" appears on JC Licht bags and shirts so customers know the company is solutions-focused.