Founded in 1977
---
90% contractor focused
---
2 retail stores; 2 design centers; 2 wall panel and truss manufacturing facilities; countertop fabrication
---
Headquartered in Kearney, Nebraska; operations in Nebraska and Colorado
Stacy Bivona
Builders | Nebraska & Colorado
In 1977, Myron Andersen started Builders, and in its first year, the company did $155,000 in sales. Today, Builders serves contractors and home builders from coast to coast from its retail lumberyards, design centers, installed sales services and truss manufacturing and countertop fabrication operations in Nebraska and Colorado.
—
Stacy Bivona is Andersen's daughter and current vice president of Nebraska operations and marketing for Builders. She says her parents always encouraged her and her brother, Chad, to explore their passions.
"Chad and I both went to college, and our parents made it very clear that we should do whatever made us happy," Stacy says. "It was never a requirement that we come into the family business."
After college, Chad pursued construction, and he eventually returned to Builders to help launch and lead operations in Colorado.
Stacy earned degrees in design and marketing, and after graduating, she joined a fashion clothing company headquartered in Kearney, Nebraska, working as a women's apparel buyer and in product development.
"I had quite the learning experience with that company," Stacy says. "I learned about the buying process, negotiating with vendors, company culture and working with management in a corporate environment. I've always been drawn to fashion and
pretty things, whether apparel or home design, so it came naturally to me."
Stacy utilized the comprehensive services offered through Builders when she was building her first home, and she realized how much her passion overlapped with the family business.
"It was very exciting to see that process from the beginning to the final completion of the house. That's where I found my love for it," she says. "Then, around the dinner table with my family, my dad said if I was considering working in the business, we needed to have a serious conversation about it."
Stacy came to Builders in 2009, and she had to prove she could contribute.
"While I eventually grew into a marketing role, I had to really earn it," she says. "I worked on the floor, I worked in the design center, and in the cabinetry and countertop areas, and I worked with customers. Since I had a background in buying and marketing, I also worked on our vendor relationships and purchasing."
GROW TOGETHER
The team at the Builders flagship location in Kearney, Nebraska, is leading a store renovation to expand services and offerings for customers.
SERVICE AT THE CORE
As the landscape in the industry has changed, so has Builders to respond to the needs of its core customer base: contractors and home builders. Stacy has been a key part of the company's growth over the last decade, relying on Builders' loyal customer base and growing into new markets based on their requests and suggestions.
"From Day 1, we've been focused on providing top-tier customer service, and it's because we talk to our customers to find out what their challenges are and what they want from us," Stacy says. "We're honest and we walk them through a project, whether they're a professional or a DIYer. We've spent decades forging strong relationships with our vendors, which has helped us earn the reputation of being able to source just about anything."
Comprehensive customer service is a key part of the complete building solutions customers find when they walk into Builders. The Kearney location features 67,000 square feet of salesfloor, warehouse and design center space, and it also has a separate drive-through lumberyard. There is the main entrance for retail customers, as well as a separate entrance and grab-and-go area of the salesfloor that Builders' professional contractor customers use for quick trips to grab a few boxes of nails or caulk.
"We have such fantastic relationships with our contractors here," Stacy says. "We've been here for 45 years, so they rely on us and know what we are able to provide."
And provide Builders does. Because of the company's extensive manufacturing, fabrication and installation segments, Builders can provide everything someone needs for a new build or renovation project. To bolster this service, the Kearney location is currently undergoing a renovation of its design services center. When it's complete, customers will have a separate entrance and spaces to meet with designers.
In addition to having established relationships with contractors, interior designers and consultants also rely on Builders. In the new space, independent consultants will have dedicated meeting rooms to meet with clients and show them the possibilities Builders has to offer. This renovation isn't the last project the company has planned.
"We're creating a replicable model to put in our other markets," Stacy says. "We're already looking for acquisition opportunities, and we have growth plans for the Colorado market and new markets and segments on the horizon."
Stacy says a key department is paint because so many projects start there.
"We want our team, our family members and all of our customers to be very proud of the work we do collectively."
"We believe so deeply in the people who work for us. If we didn't have this team, we wouldn't have a business. It's very important for us to continue to invest in our team."
"Any project someone is going to be doing on their home, paint is going to be involved," Stacy says. "We like to focus on paint as the starting point to learn the scope of their project and capture the whole thing. If someone comes here to choose paint for their kitchen, it's a great entry to talk about tile or flooring or appliances."
Staff at Builders is more than a group of employees, Stacy says; they're family. And each person on the team has a responsibility to deliver the high level of service that Builders has earned a reputation for over the last 45 years.
"We believe so deeply in the people who work for us. If we didn't have this team, we wouldn't have a business. It's very important for us to continue to invest in our team and seek information," Stacy says. "For example, our drivers who are out delivering materials are the last people to interact with our customers, so we empower them to seek feedback and continue that thread of high-quality service all the way until the end."
Investing in the team is a key focus for the company for the foreseeable future, Stacy says, whether that's offering additional training or creating opportunities for leadership development.
"With the labor market the way it is, we've been recruiting, but it's certainly been challenging.
Our current team has been flexible, and they've all been willing to do jobs that are maybe outside their scope of responsibilities to keep things running," she says. "Our culture here is very family-oriented. We encourage open conversations to find out what their passions are so we can put them on the right career path."
With growth in the forecast, another space Builders is investing in is e-commerce and the company's digital presence. The company website is undergoing a facelift that will better serve the needs of all the company's customers, which shifted during the pandemic.
"Just like for the majority of the industry, our retail sales have picked up over the last few years as people were investing in their homes," Stacy says. "To retain those customers, we need to be sure our online presence meets their needs."
The website overhaul will feature different segments for each business division so each audience can better access the information they need.
"Our vision is that it will be for both retail and contractor audiences. The platform is about convenience," Stacy says. "Contractors will be able to order online, and we'll have options for delivery and pickup, and the retail customers will be able to access our full catalog of products so they can see everything we have to offer."
Having the opportunity to make continued strategic investments in Builders and its people is something Stacy says she's grateful to be able to be a part of.
"We are a servant-based company. That is our mission. We want our team, our family members and all of our customers to be very proud of the work we do collectively," she says. "We're excited to exist in this space. Not a day goes by that we aren't counting our blessings."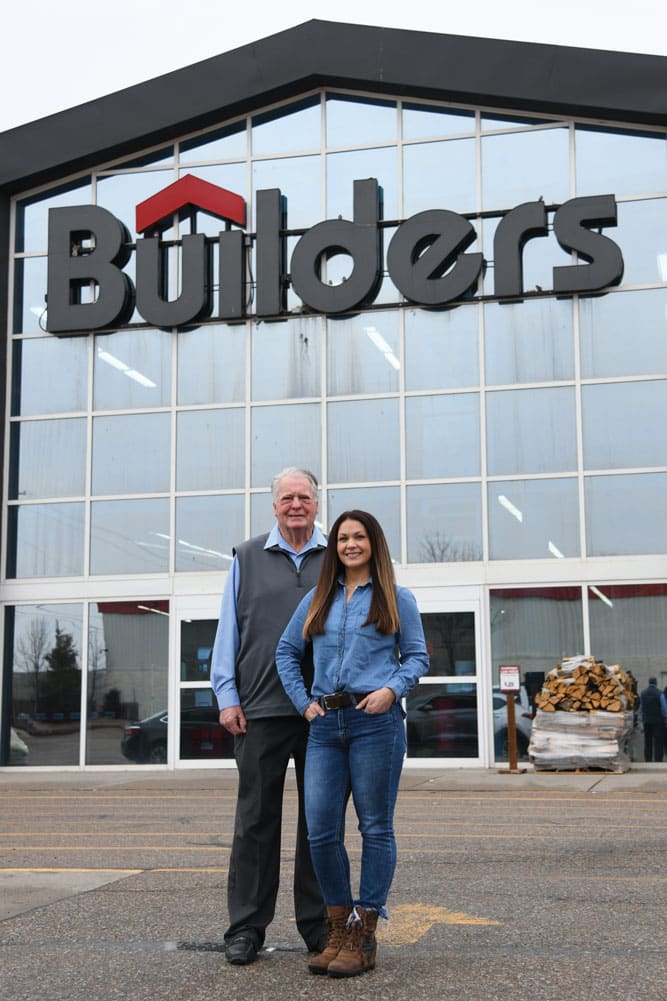 Myron Andersen (left) founded Builders in 1977. His daughter, Stacy Bivona, now leads Nebraska operations for the company.