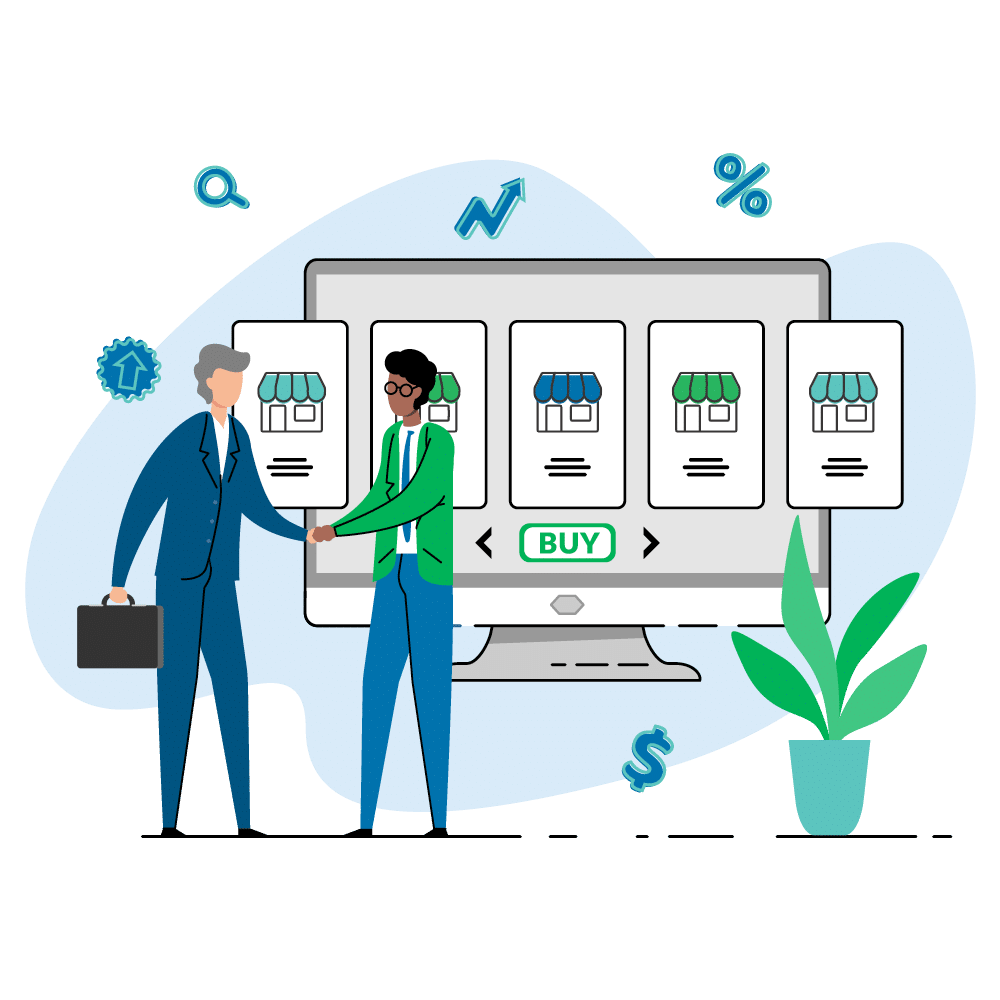 NHPA Retail Marketplace
The industry's marketplace for buying and selling independent home improvement stores.
Frequently Asked Questions
Here, you can find answers to some common questions about NHPA's Retail Marketplace. If you have any additional questions or need help with submitting your business to the Marketplace, contact Dave Gowan at dgowan@yournhpa.org.
What is the NHPA Marketplace?
The NHPA Retail Marketplace is a way to connect buyers and sellers of independent home improvement businesses. There are a number of reasons why store owners want to sell their business and many different options of listing them for sale. NHPA frequently receives inquiries in regards to helping sell stores, so this marketplace was created to give store owners a cost-effective way to advertise that their locations are for sale. With over 40,000 storefronts in the home improvement industry, and NHPA in contact with all of them through our various communications vehicles, it made sense to create this service. There is a high likelihood that a potential buyer of an existing home improvement business is already in the industry; therefore, the NHPA Retail Marketplace is an opportunity to connect the buyer and seller.
How much does a listing cost?
For a one (1) year term, the listing in the NHPA Retail Marketplace is $5,000 for a public listing and $12,500 for a private listing.
What is the difference between the public listing and private listing?
A public listing means NHPA will disclose all information that you have provided to us through the basic listing information form. Some retailers do not care that the general public or their employees know that the store is for sale, so the public listing will be a perfect fit for them. A potential buyer can view all of the details of the listing and contact the seller directly.
A private listing means NHPA will only make public the state the store is located in, the annual revenue and the sales price. Potential buyers will need to reach out to Dave Gowan, Chief Financial Officer at NHPA at dgowan@yournhpa.org or 317-275-9432 to inquire about additional details. He will require the potential buyer to sign a non-disclosure agreement and confirm, in writing, that the seller agrees to release the additional information. The potential buyer will then receive all of the information from the basic listing information form, including contact information, so they can reach out directly to the seller.
What is needed to advertise my business for sale?
What do I get for the listing fee?
Website-Your full listing will be available on YourNHPA.org/marketplace 24/7 for up to one year.
Print & Digital Magazine-We will run a partial listing in Hardware Retailing and Paint & Decorating Retailer print and digital magazines monthly.
Email-Retailers who sign up to receive notifications about listings will get a monthly email.
General-NHPA will promote the retail marketplace across all of its print, digital and social platforms to drive traffic to the listing page.
Can I view a sample listing?
When does my listing term start?
The one (1) year term starts once the listing becomes active on YourNHPA.org. Once you submit your listing and fee, NHPA will prepare a proof and send it to you for approval. Once we have final approval, the listing will be activated.
Can I buy a listing for less than a 1-year term?
No, our listing terms are for one (1) year only. This duration allows you to have the time needed to appropriately market your business and find the right buyer, which typically takes 7-12 months.
How often can I make changes to my listing?
You can make two (2) adjustments to the activated listing free of charge. Any additional changes will incur a $250 change fee and will need to be paid in advance of the changes.
What happens at the end of my listing term?
Once the initial listing term has expired, you will have the option to renew the listing for another year. If you choose not to renew, the listing will be removed from all NHPA properties. Note: It is not uncommon for some businesses to take a year or longer to find the right buyer.
Will NHPA help me determine a price?
No, NHPA does not currently offer valuation services and will not be involved in setting the price of a business for sale on the NHPA Retail Marketplace. NHPA is considering offering valuation services in the future but does not currently do so.
Can I suspend or stop my listing at any time?
Yes, if for whatever reason you want to stop your listing during the one-year term, NHPA will suspend the account effective the date you choose. The number of  days that remain in the listing period when the account is suspended can be used when you want the listing reactivated. The reactivation only applies to the same property and cannot be used for an alternate property. Note: Due to publishing deadlines, it may not be possible to stop the listing immediately in the magazines; therefore, magazine listings will be stopped in the earliest possible edition we are able to.
Do I receive a credit if I sell my property and do not need to list it for the entire term?
No, the NHPA listing fee is due upfront and is deemed earned when the listing becomes active on YourNHPA.org.
Do I pay a commission to NHPA when I sell my business?
No, NHPA Retail Marketplace is an advertising and marketing platform that enables you to list your business for sale, and we only charge advertising fees.
What if I don't know or don't want to disclose information on the basic information listing form?
Certain information on the form is required for NHPA to list the business for sale. However, some information can be left blank or you can write the information is not available (N/A). Note: If you do not disclose information that the buyer cannot figure out on their own, you will eventually need to provide that information to give yourself the best opportunity to sell your business.
Who do I reach out to if I have a question about the NHPA Retail Marketplace or am an interested buyer of a private listing?
If you have any questions or general feedback, please contact Dave Gowan, Chief Financial Officer at NHPA, via email at dgowan@yournhpa.org or 317-275-9432.
Can I email or fax my listing?