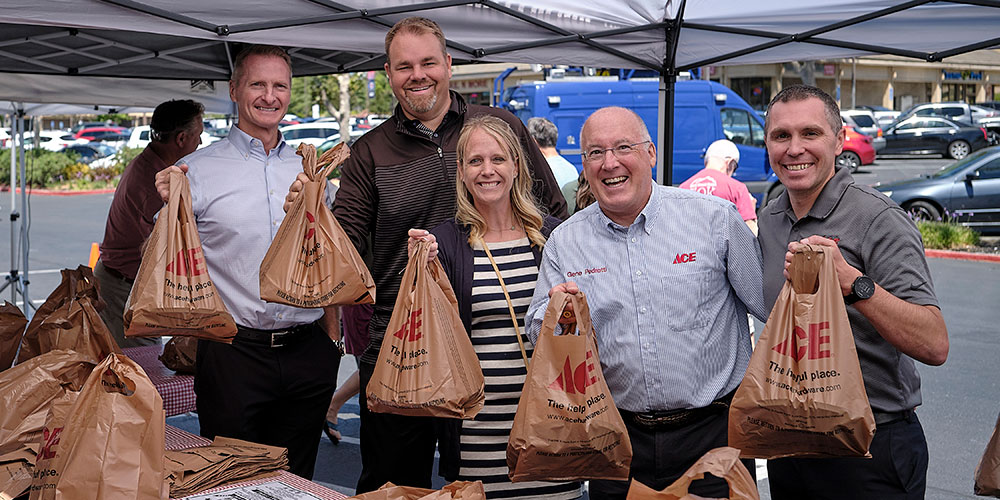 Pedrotti Ace Celebrates a Century of Community
For Gene Pedrotti, hardware is much more than nuts and bolts. For Gene, hardware is history, family and community. As the third-generation owner of Pedrotti Ace Hardware in Benicia, California, Gene is committed to continuing the legacy his great-grandfather and uncles started by being involved in and supporting the community.
In July 2022, Gene led the charge to honor his company and the community in a big way, hosting a centennial celebration complete with a concert, drone show and apple pie giveaway. The celebration accomplished what Gene was hoping it would; it shared the history of Pedrotti Ace Hardware and connected the community.
Third generation owners celebrate 100 years in business
A passionate team all about helping solve problems
Employees are a key part of the store's success
Celebrating the company milestone brought employees and loyal customers together
From Dairy Farmers to Hardware
The Pedrottis were dairy farmers in Switzerland during a time when it was hard to make a living as a farmer. So, the family made its way to California to take advantage of the Gold Rush and the flow of money and resources in the San Francisco area, a hot seat for gold mining. Gene's grandfather Ralph Pedrotti started a small mercantile operation that operated for two years until he left the business to serve in the U.S. Navy in World War I. Upon his return, he moved his family to the town of Crockett, California.
"When he returned, a semi-retired businessman, James Firpo, backed him to start a hardware store in the town of Crockett," Gene says. "That original store, called Firpo & Pedrotti Hardware, opened in 1922 and was a very small operation with less than 500 square feet."
In the 1940s, Ralph's sons Al, Larry and Benjamin started working in the store, and the operation moved a few buildings up the street, a location the store would call home for 60 years. The new storefront was bigger, but still only occupied 850 square feet.
"As a little kid you walk around and you think everything is so huge, that the store is a massive operation," Gene says. "As a child, things look so big, so to go back there now, I can't believe my uncles and grandfather raised families on such a small operation, but they did. They got by and built an incredible foundation for the company."
The town of Crockett was a small town and served as the home of the California and Hawaiian Sugar Co. The community was blue-collar and middle class, so Gene says that his family's hardware store served the community well.
"The hardware business is all about repairing, salvaging and saving and being able to use what you have and not have to buy new," Gene says. "We were able to provide the products people needed."
Ralph retired in 1945, and the company was renamed Pedrotti Hardware. Larry had five sons, including Gene, and Al had two boys. Larry and Al's sons worked at the store alongside their dads for a time growing up. Honoring his 50 years in the hardware industry, Al was awarded the Estwing Golden Hammer in 1977. Larry earned the honor in 1985.

Family Tradition
Al graciously delayed his retirement by two years so Gene could finish school and take over the business. Gene joined the store full time after graduating from the University of California-Berkeley in 1980. He moved the store to Benicia in 1992.
Working in hardware is in Gene's blood and as natural as breathing for him, he says. It's no surprise he followed his grandfather, dad and uncles into the family business because he says he has always enjoyed the neighborly nature of hardware, the focus on community and the ability to help people. He also sees hardware stores as natural gathering places and appreciates how small the independent home improvement world really is.
"We all go to these industry events, and it's a big social gathering. You can be sitting around a table with complete strangers, but you all leave as friends because you have those shared experiences," he says. "I think if I got stranded anywhere in the country, I would walk up to the nearest hardware store, knock on the door and say 'I need some help' because I know they would help me."
Helpful is one of Gene's mantras and how he lives his life both personally and professionally.
"We're in the business of helping people every day," he says. "There is a positive feedback loop that is constantly playing in the trade where employees are helping customers solve problems, and the customers give back to the employees with thank yous and smiles."
Secrets to Success
Along with a commitment to customer service, the store's employees have contributed to the store's success. Gene says all of his employees have positive relationships with each other. When Gene moved Pedrotti Ace to Benicia into the space occupied by another hardware store, he kept the sole employee of that store, Margaret Vizuet, who still works part time for Pedrotti Ace. Anytime he hires someone new, Gene looks for job applicants with the same mindset as Margaret, who has been a part of Pedrotti Ace for 30 years and in the hardware business for 40 years. He says Margaret is always willing to go out of her way to help people, steps up whenever needed and has an inner joy she shares with customers that makes them want to come back again and again. Gene hires employees with the same commitment to customers and a desire to help others.
"If there's a saint of hardware, Margaret is it," Gene says.
Gene says he and his employees strive to treat their customers like family, just like his grandfather, uncles and dad did from the beginning.
"Our success has never drifted far from that family atmosphere. Our customers are our colleagues, our classmates," Gene says. "I tell my staff that our customers are extended family, and they should treat them as such, because when you do, you create tighter bonds and relationships."
He takes his own advice to heart and spends Sunday mornings reading through customer surveys and reaching out to each customer with a response and a thank you.
On the product side of the business, Gene has focused on carrying what his customers need and want. For Pedrotti Ace, that typically means sticking to products geared toward general maintenance.
During the pandemic, that meant returning to the store's roots as a mercantile and expanding into product lines Gene hadn't carried before but that his customers now needed and wanted. These new products included games, puzzles and a variety of locally made products like chocolate and honey.
The supply chain issues brought on by the pandemic also led Gene to more closely study the store's short lists and look at how he could fill shortages with alternative options. Going into the pandemic, the store's inventory fill rate was 99.12%.
"Our fill rate only dropped to 94% because we spent a lot of time understanding what was going to be out and what we could carry instead," Gene says. "It's worth spending time on these things because it can also help you spot other problems."
Celebrating a Centennial
The company's commitment to customer service, helpful employees and the right mix of products has brought Pedrotti Ace to its 100th year in business. Gene says he wanted the celebration to honor the history of the store and say thanks to the community that had supported his family over the years.
In 2019, he learned about Verge Aero, a company that hosts drone shows with music, and hired them to do the store's anniversary show. Gene teamed up with the city of Benicia to host the event, which included a concert before the drone show that complemented the city's annual Torchlight parade on July 3 and fireworks on July 4.
"There is so much to celebrate this year—our centennial, surviving the pandemic and being part of a great industry, the retail hardware trade," Gene says.
Gene's commitment to his community extends beyond a one-time celebration. He regularly contributes to the
Ace Foundation and helps out on a local level with the charitable trust he created.
"Giving back comes from the roots of growing up in a small town, where people help each other constantly," Gene says. "We feel a need to step up because we've been very fortunate to run a successful business for so long. It's been a big part of my life to give back and do it regularly."
If operating a successful small business that provides local jobs and supports local organizations wasn't enough, Gene also writes for the local magazine, Benicia Magazine. He has found writing provides another outlet to dialogue with his community and customers, and he has enjoyed sharing his stories and perspectives on life and business.
Writing has given Gene something to look forward to when he retires. He doesn't have children, but he knows the store will be in good hands when he finally hangs up his hat. Right now, the plan is for his store manager to take over the reins.
"I don't look forward to retirement at all. I love what I do," Gene says. "I work hard now because I know it will end at some point. I love hardware, and it will be hard for me to leave it."