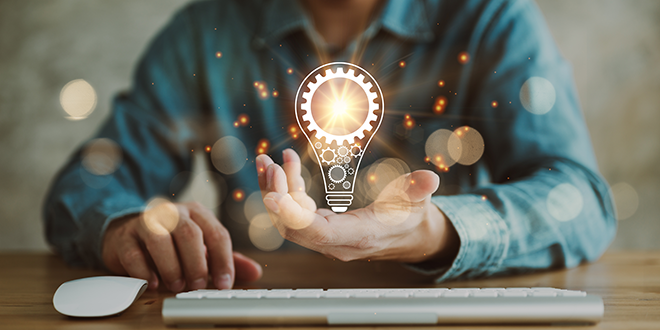 3 Custom Solutions for Key Retail Challenges
When technology solutions don't fit your needs out of the box, sometimes the answer is to build it yourself. These three retailers have developed their own internal technology tools to streamline POS systems across locations, address inefficiencies in inventory management and assess gross profit section by section. Learn how these retailers took it upon themselves to find technology-based solutions for key retail challenges.
Point-of-Sale System
As Jeremy Peterson was opening the second location of Family Hardware in Florida, he hit a snag with the company's existing POS company. He discovered that his current company couldn't support the system in the new store. After researching several other POS providers, he couldn't find a good fit for his company's needs.
So, he used his self-taught IT background to develop a solution: He built his own POS system.
"At the time, I was redesigning and updating the company website, and the backend was similar to what we need for the POS system," Peterson says. "So as we were building out the store and getting it ready to open, we were building out the website with the developer. We were able to get the new POS system ready for launch on day one of the store opening."
While going out on his own was a big risk, for Peterson, his willingness to create his own solution paid off with a successful system that he also implemented into the original location.
"We learned that just because you pay for a service, doesn't mean it is always going to work for you," Peterson says. "There is a sense of pride in knowing that our system fulfills our needs."
Inventory Transfer Program
Dalton Meny, head of operations for three Meny's True Value locations in the communities of Jasper, Dubois and Ferdinand, Indiana, also jumped at the chance to create his own solution to fix a problem the stores were having.
In 2019, Michelle and Gary Meny—Dalton's parents and the owners of Meny's True Value—purchased a third location in Ferdinand, Indiana, which was the catalyst to bring all three locations under one umbrella. Prior to opening the new location, the first two did not operate as a single entity, Dalton says.
"The stores had different names, store affiliations and procedures and a definite disconnection from each other," Dalton says. "In the past three years, we have been able to make great strides in our cohesion and are now a true multistore operation."
Dalton was a student in the North American Hardware and Paint Association (NHPA) Retail Management Certification Program in 2022. Each student in the program is required to complete a business improvement project and for his, Dalton created an automated inventory transfer computer program.
Even operating as a more-cohesive unit, the Menys found that store transfers between the three locations were still an issue, which led Dalton to tackle the challenge as part of his business improvement project.
His program automatically generates store transfer recommendations for each store that can easily be imported into the POS. It then makes recommendations for redistributing the items based on minimums, sales and other factors. Additionally, Dalton created rules and procedures to guide the suggested store transfers to avoid costly inventory discrepancies.
The system has rid the stores of surplus inventory, moving those items to another store in the operation that is out of the product or may be better suited to sell it.
"We're also not having to order as much," Meny says. "Now we can order more cases, which saves money, and not worry about the product getting sold because we know the program will distribute the product where it needs to go."
The program was launched in August 2022 and in the first nine months, it transferred over $58,000 worth of inventory that otherwise would have sat on a store shelf.
"We are not only saving money, but our stores are better stocked. Our anecdotal evidence shows that a product seems to sell better when there is more of it to sell," Dalton says. "The program is becoming more efficient the longer we use it, offering long-term positive results."
Gross Profit Map
Cody Miller, merchandise manager for the lumber and building materials division of Hartville Hardware in Hartville, Ohio, also graduated from the Retail Management Certification Program. He implemented his business improvement project—the Gross Profit Map—at the store, which has allowed management to evaluate different departments for profitability.
"We wanted a different way to analyze our inventory and the space that inventory was taking up in our store," Miller says. "At the time of this project our new store had been open for six years, and during that time some departments had grown and some decreased. This resulted in certain areas not having the room to grow and other areas being left with a lot of wasted space. We found we were not using our entire store space as efficiently as we could have been."
At its essence, the Gross Profit Map maps out each aisle and assigns sales data to those spaces. It is a layout of the store in an Excel file that displays gross profit for the last 12 months for each 4-foot section in each aisle of the store.
The Gross Profit Map provides an overhead view of the store, similar to a house blueprint, highlighting the sections that are high performing and those that are underperforming. It identifies underperforming departments and areas of the store and shares that information with purchasing managers, floor managers and upper management so they can make a plan to improve space efficiency and sales.
"By using the Gross Profit Map, we can easily identify these unprofitable areas. Then once identified, we can develop a plan to increase profitability in these areas," Miller says. "We have a quick and unique visual on what sections are losing money and need attention, and those that are high performing that have potential for growth."
Merchandise managers at Hartville Hardware are responsible for making all the buying decisions for their department, as well as making the decisions on product placement. The Gross Profit Map provides a way for those managers to better evaluate their areas for types of products to include and even how to place and merchandise those items.
Since Miller launched the Gross Profit Map, Hartville Hardware has bought several other stores. The map was used right away in each of those new stores to gain a quick understanding of how those retail spaces were performing, and the data gathered led to major resets in two of the stores, Miller says. In the 6 months following the reset, there was a 46% increase in sales overall with the power tools department seeing 49% growth in six months and the addition of several new brands.
Miller says he and his team have created action plans based on the Gross Profit Map information. Examples of actions include condensing a section or department by discontinuing a product to make room to expand the high performing sections, moving a high performing section to a more visible or higher traffic area to increase sales, performing department resets to maximize the gross profit per foot or just visually updating a section.
Using the tool, Miller has found around 135 4-foot sections in the main store that are producing less than $500 gross profit, which is the breakeven number Miller has determined each section needs to cover all costs for that area. The average gross profit of these sections is $247.78, so assuming they can improve each section to product $500, it would add $34,302 of gross profit to the the store.
"My goal for the project was to create a long-term sustainable resource to help make our store more efficient and profitable," Miller says. "The map has helped us become more efficient with the space and layout of our store, helping us work towards not having any sections or aisles that are losing money."
Discover More
Hear more about each of these retailer's innovations in their operations at the 2023 NHPA Independents Conference held Aug. 2-3, 2023 in Dallas. During the conference, Peterson, Meny and Miller will take part in a panel discussion on "Streamlining Operations Using Technology." Learn more about their panel and the other tech topics being presented and register for the conference here.